Over the years of owning your home, your roof might develop some minor issues that need to be fixed. Not all roofing damage is caused by large-scale storms, fire, or fallen trees; smaller storms, pests, and age can produce small roof problems that don't require a full replacement but should be fixed to extend your roof's life. When it comes to concerns with your roof, you probably want to know what is considered minor roof repair. Let's take a look.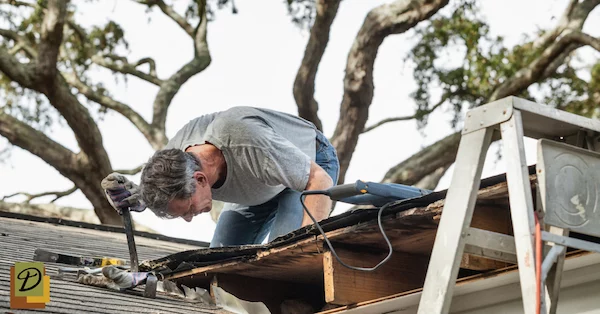 What is Considered Minor Roof Repair?
It's not always necessary to completely replace your entire roof when you have roofing issues pop up. If your roof is newer but has started to show a problem, it is probably something a roofing expert can repair for you.
Roof Shingles that are Missing or Torn. Large storms or wind can damage shingles that might otherwise be in great shape. A cracked shingle can quickly turn into a torn shingle tile or even be blown away. Older shingles that are starting to show wear are prone to this type of damage.
Leaks Around Vents or Flashing. If you have had large winds recently, flashing can shift and cause a leak in your house. It might go unnoticed until you have just the right wind conditions during a rainstorm. Improperly installed flashing or venting can also produce leaks.
Damaged Shingles. Hail is a big culprit of damaged asphalt shingles. If the damage is a small number of shingles, these can be replaced as necessary to avoid more damage or leaks in the future. Heat is another big reason for damaged shingles. When a roof has bad ventilation, heat can build up in an attic and cause roofing shingles to heat up as well. This problem shouldn't be confused with a minor repair.
Nail Lifting. If a roofing nail has come loose or disappeared, you could easily develop a leak in your home or attic space.
Pest Damage. When pests like birds, squirrels, or insects approach your roof like it's their home or meal, they can cause holes that eventually lead to leaks. After they have been relocated or exterminated, some repairs to your roofing shingles and underlayment can likely be repaired without needing to replace your entire roof.
How to Know Whether to Repair, Patch, or Replace your Roof
An inspection of your roof is the best way to prevent most small roofing problems from turning into large, destructive issues. Your Austin roofing expert will give your home's roof a thorough exam, then provide you with the best options for your roof. Whether the problems are small enough to warrant repairs or large enough to require an entirely new roof, they will be able to tell you that day.
When you discover a leak or see a missing or torn shingle on your roof, calling your local roofer is the best step. If your roof is under warranty, make sure to call the roofer that installed your roof so they can handle the follow-up service. If you need to work with someone new, ask your neighbors and family for a referral in your area.
The best advice overall is to find out for sure what the problem is quickly and don't wait. A roofing problem can turn from unpleasant to severe when wind and water are involved. You should know how to proceed after your roofer inspects it.
Your Local Austin Area Roofing Professionals
We strive to bring you the best in roofing for the Austin, Texas area. We deliver decades of roofing experience, training, and knowledge in this area's needs. We are a prominent roofing company in residential roof repair and roof replacement. We will not ask for a deposit on labor or materials as a dependable way to stand out from the competition while bringing you the best product and service in Austin.
When we inspect, install, or repair your roof, we want to provide you with the best options for your roof design, components, and ventilation. We are Master Elite Contractors bringing you the latest in roofing technology, and a member of our local area Better Business Bureau, so you know we take pride in our work and our community.
Contact us by phone or email to schedule your FREE roofing inspection and quote today.